Download your free weekly printables for 2023! Every Friday morning for this year, we will be releasing a weekly printable across all Social Platforms for AprilDMetzler! Connect on Social and Mark your Calendar for Fridays. Follow along with us throughout the year to grow stronger in prayer through dedicated practice together! 15-30 minutes a week is all it will take to build your prayer life this year. You can do this! Let's Go! Connect below:
---
The C.H.A.R.G.E. Method™ is a biblically-based prayer method to help strengthen and encourage you in power-filled prayers of agreement. Practicing agreeing in prayer will make a huge impact in your prayer life!
Our agreement is 2-fold. First, we agree with the Word of God. Second, we can come together to join in faith and agree with our brothers and sisters in Christ in prayer. No matter what the topic or issue, we can find agreement to stand firm together in His Word. When we do this, it allows us to operate in unity and as one body seeking after the same thing in any given situation: God's will.
HOW TO C.H.A.R.G.E.™
COME TO HIM IN TRANSPARENCY
HUMBLE YOURSELF BEFORE THE LORD
ACKNOWLEDGE THE TOPIC
REPENTANCE FOR BELIEVING/ACCEPTING THE LIE AND/OR WALKING IN SIN
GIVE THANKS FOR HIS LOVE, GRACE, & MERCY CONCERNING THE TOPIC
EXPECTATION, PRAISE, & WORSHIP FOR HIS PROVISION: AGREE, BELIEVE & RECEIVE
The C.H.A.R.G.E. Method™ is a cooperative effort between April D. Metzler ministries and Kingdom Industries United, a nonprofit ekklesia organization founded by April Metzler in hopes of uniting the Kingdom of God, one connection at a time.
Download the Entire Year of Printables
Sign up for email and we will send you the entire 2023 year of weekly Friday printables for Free!!! Setup your journal, binder, folder, and/or prayer closet and pray at your own pace. ALSO AVAILABLE IN DIGITAL FORM. NO PRINTING NECESSARY!
Just Remember: we are covering every topic in prayer, too, as we join in faith to agree by His Word with you this year!
---
Wanna know how it fits in your schedule, first?
Here's the month of January to Get Started & Download the entire month for now.
January 2023
DIVE DEEPER – EXTRA CHALLENGE: Read the provided Scriptures on each Printable from more than one Bible translation and/or paraphrase as you consider them and reason with the Lord in these topic matters during your prayer time with Him.
---
Other Printables by April D. Metzler
S.O.A.P. STUDY METHOD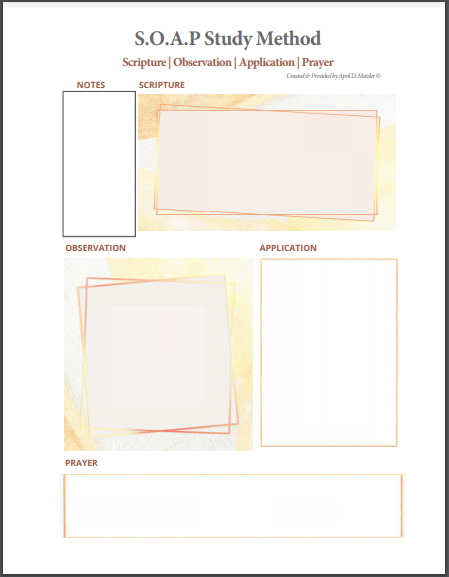 SCRIPTURE

Write out the entire passage you are studying. Tip: This helps with memorization

OBSERVATION

Consider Things like: What do you notice about the verses? What verses, words or ideas jump out to you? Who is the audience? What do you think the main message is?

APPLICATION

Consider how to Apply God's Word in a practical way that will reflect God's love to others. Look internally, first. Then, externally in how you interact with others.

PRAYER

Write your prayer to God. Ask for further understanding of the Scripture. Praise Him in advance for revealing His truth in it. Confess any sin that came to light during the study. Thank Him for His Word and ask Holy Spirit to continue throughout the day/week to reveal more about this.
---
A.C.T.S. STUDY METHOD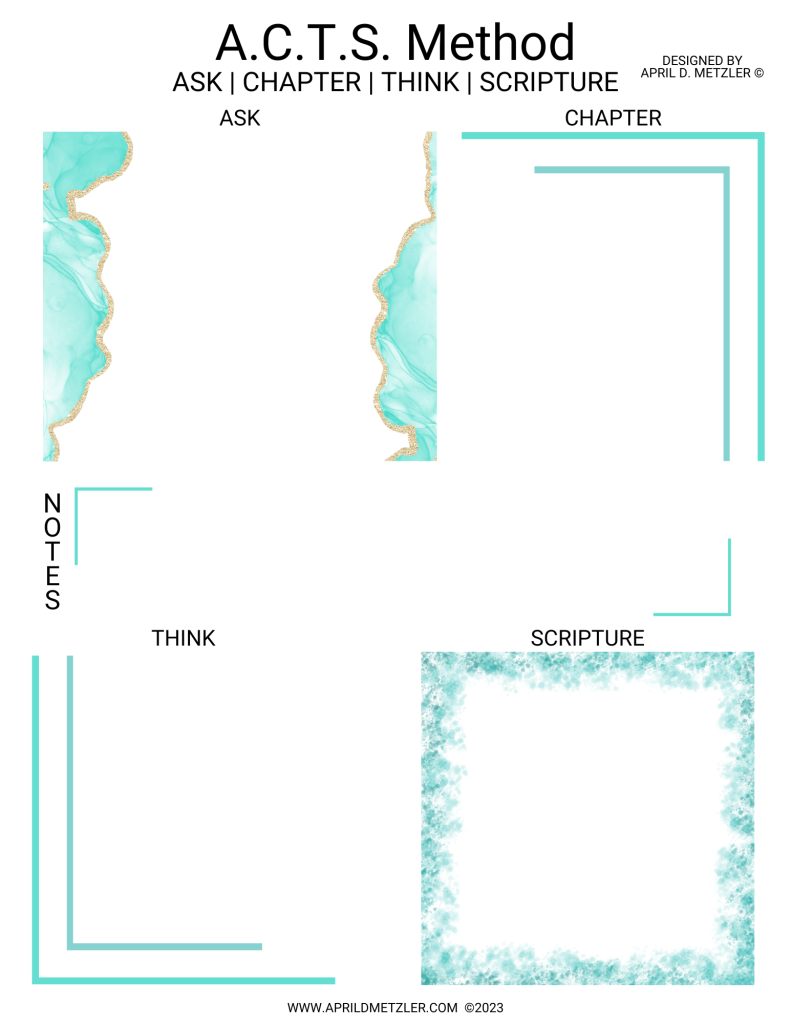 ASK

Ask what God wants you to understand about this passage. Tip: use Who, What, When, Where, and Why as starting points and write down your questions.

CHAPTER

Read the chapter carefully and reflect on the words as you do. Write down your thoughts and what God ministers to your heart about as you read.

THINK

Think about the different ways that the chapter can be applied to your life and write these points down

SCRIPTURE

Write out one Scripture verse that stood out to you as you read through this chapter. What additional things came to mind when it did?
---
---
Interested in More Free Printables?
Visit our faith-based friends over at Christian Women's Book Club, founded by an awesome sister-in-Christ, Danialy Iglesias, to find more great resources for this year!
https://christianwomensbookclub.com/free-printables
Interested in Bible Journaling and Creative Ideas? Join The Journaling Corner over at CWBC.
https://christianwomensbookclub.com/the-journaling-corner-1
---