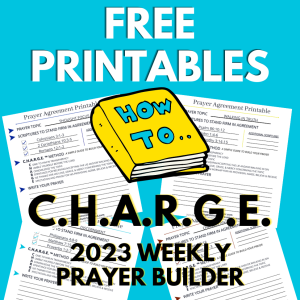 The C.H.A.R.G.E. Method™ 2023 Prayer Agreement Printable Collection is available below! Every Friday morning for this year, we will be releasing a weekly printable across all Social Platforms for @AprilDMetzler! Connect on Social and Mark your Calendar for Fridays. Follow along with us throughout the year to grow stronger in prayer through dedicated practice together! 15-30 minutes a week is all it will take to build your prayer life this year. You can do this! Let's Go!
Do you enjoy preparing things in advance or just want to download the entire collection all at once?! That's okay! We've gotchya covered!
Download the Entire Year of Printables Below
Simply sign up with your preferred email and we will send you the entire 2023 year of weekly Friday printables for Free!!! Setup your journal, binder, folder, and/or prayer closet and pray at your own pace.
---
The C.H.A.R.G.E. Method™ is a biblically-based prayer method to help strengthen and encourage you in power-filled prayers of agreement. Practicing agreeing in prayer will make a huge impact in your prayer life!
Our agreement is 2-fold. First, we agree with the Word of God. Second, we can come together to join in faith and agree with our brothers and sisters in Christ in prayer. No matter what the topic or issue, we can find agreement to stand firm together in His Word. When we do this, it allows us to operate in unity and as one body seeking after the same thing in any given situation: God's will.
---
Click the button to "check out" below and get this download immediately!
OR, simply sign up for Email to receive an email reply within a few days with the complete PDF here
---
HOW TO C.H.A.R.G.E.™
COME TO HIM IN TRANSPARENCY
HUMBLE YOURSELF BEFORE THE LORD
ACKNOWLEDGE THE TOPIC
REPENTANCE FOR BELIEVING/ACCEPTING THE LIE AND/OR WALKING IN SIN
GIVE THANKS FOR HIS LOVE, GRACE, & MERCY CONCERNING THE TOPIC
EXPECTATION, PRAISE, & WORSHIP FOR HIS PROVISION: AGREE, BELIEVE & RECEIVE
The C.H.A.R.G.E. Method™ is a cooperative effort between April D. Metzler ministries and Kingdom Industries United, a nonprofit ekklesia organization founded by April Metzler in hopes of uniting the Kingdom of God, one connection at a time.
---
You can contribute to helping further expand the reach of ministry efforts like these by providing monetary support here:
April D Metzler via Paypal
---
PARTNER WITH KIU
Visit Kingdom Industries United to Donate to this newly established Nonprofit to unite the Kingdom, one connection at a time. We are building something great and invite you to be a part of this shift to Unity!
---